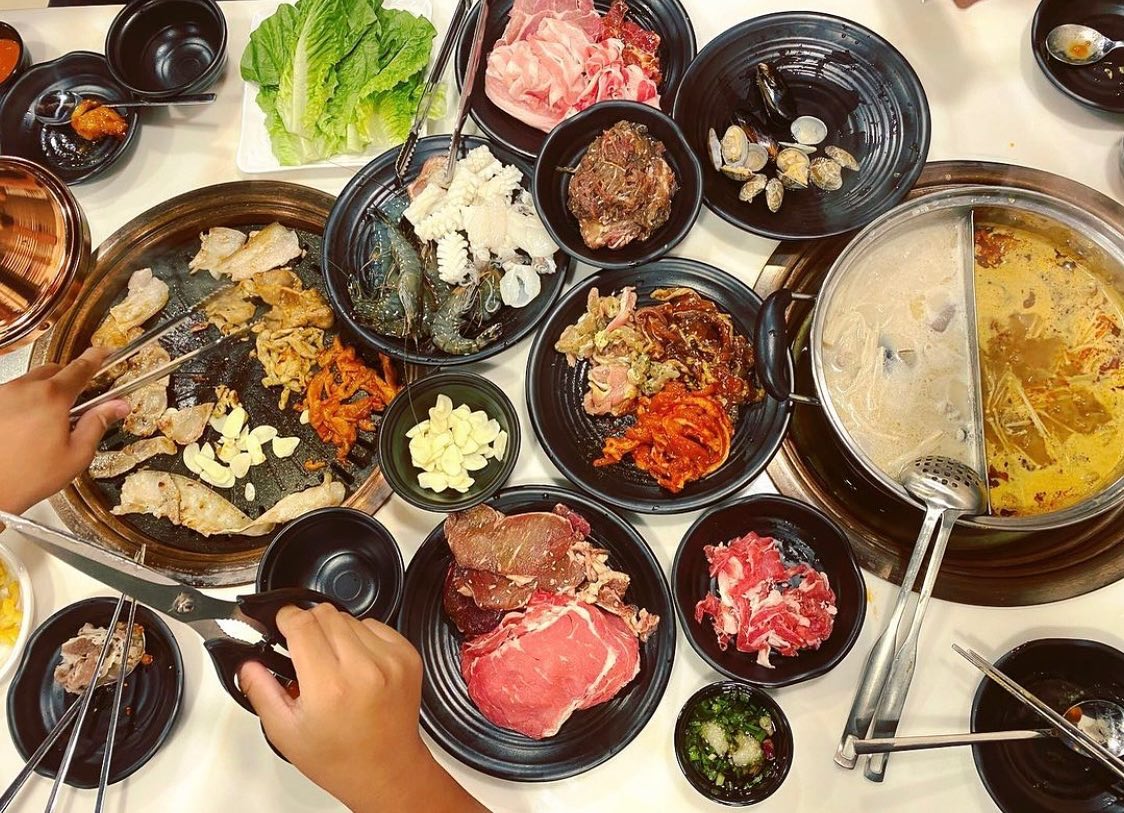 Pot Addiction is an authentic Korean BBQ / Ying Yang Hotpot Buffet Restaurant offering over 80 items* on our buffet at affordable prices! Choose from 2 options of cooking style with tempting add ons such as a side of cheese and SOJU BOMB! Enjoy a wide range of soup from Tonkotsu to Laksa base and a popular favourite, Mala. Come and enjoy a delicious spread of meat and vegetable. Take a dip, take a chance. Mix and match your favourite sauces to come up with your signature.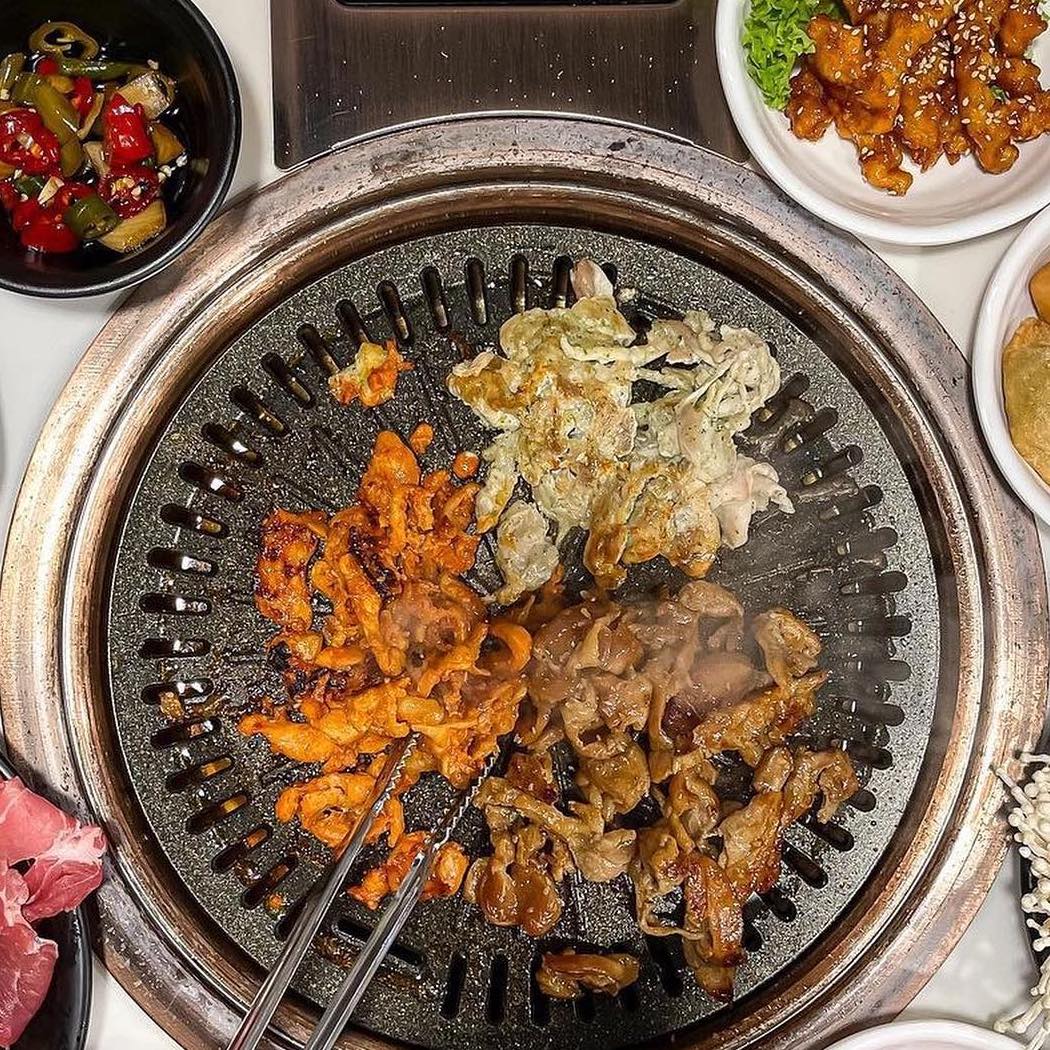 KBBQ
With 16 different types of meat such as Korean Ribeye, Chicken Bulgogi, Sliced Lamb, Beef Stomach to Pork Belly, we serve your daily KBBQ needs – meat, seafood, vegetable, and more!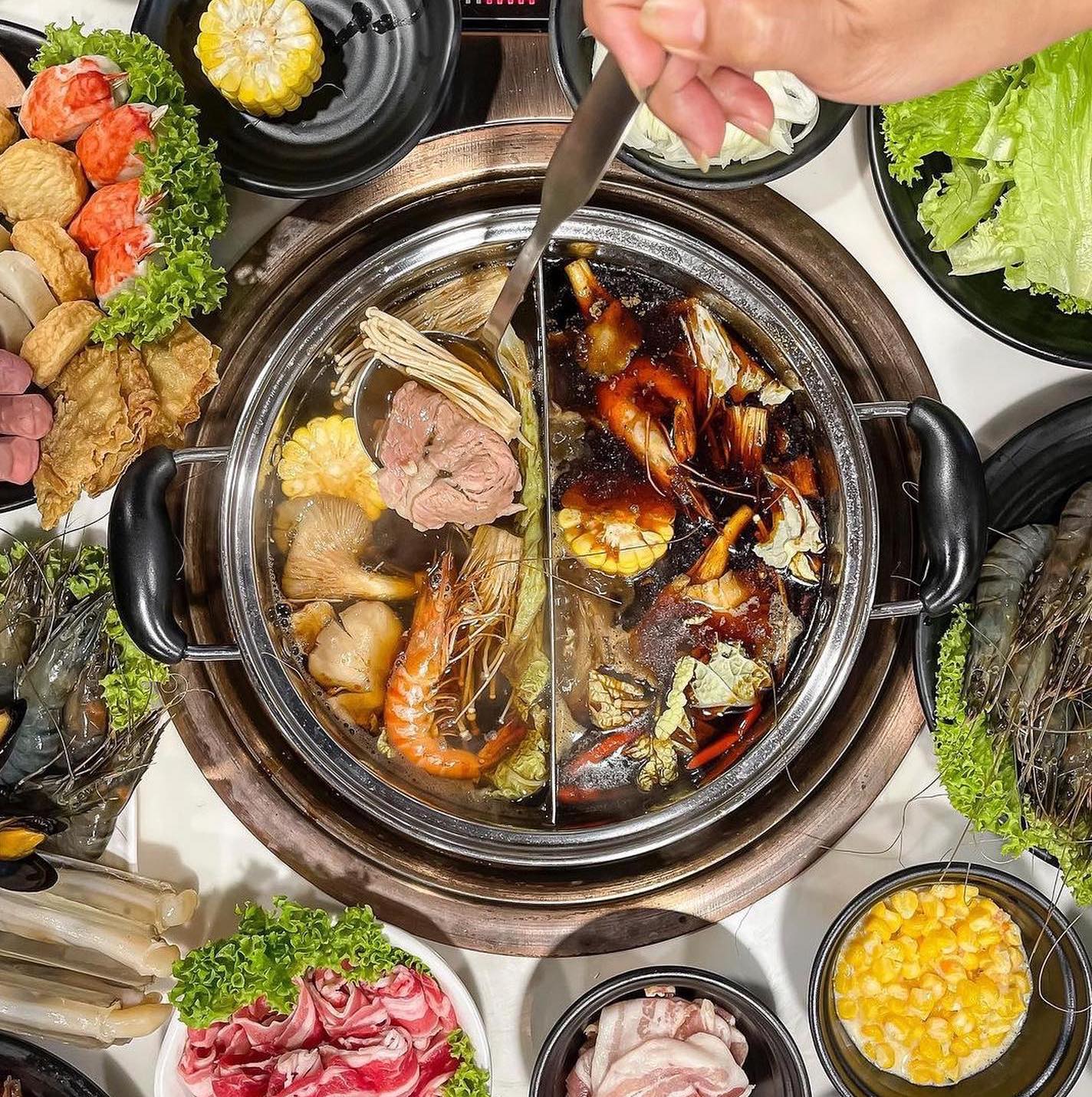 HotPot
All of our 7 soup bases is put together by our chefs with our own unique recipe, prepared with love and attention daily. Browse from a wide range of ingredients prepared to satisfy all your hotpot cravings.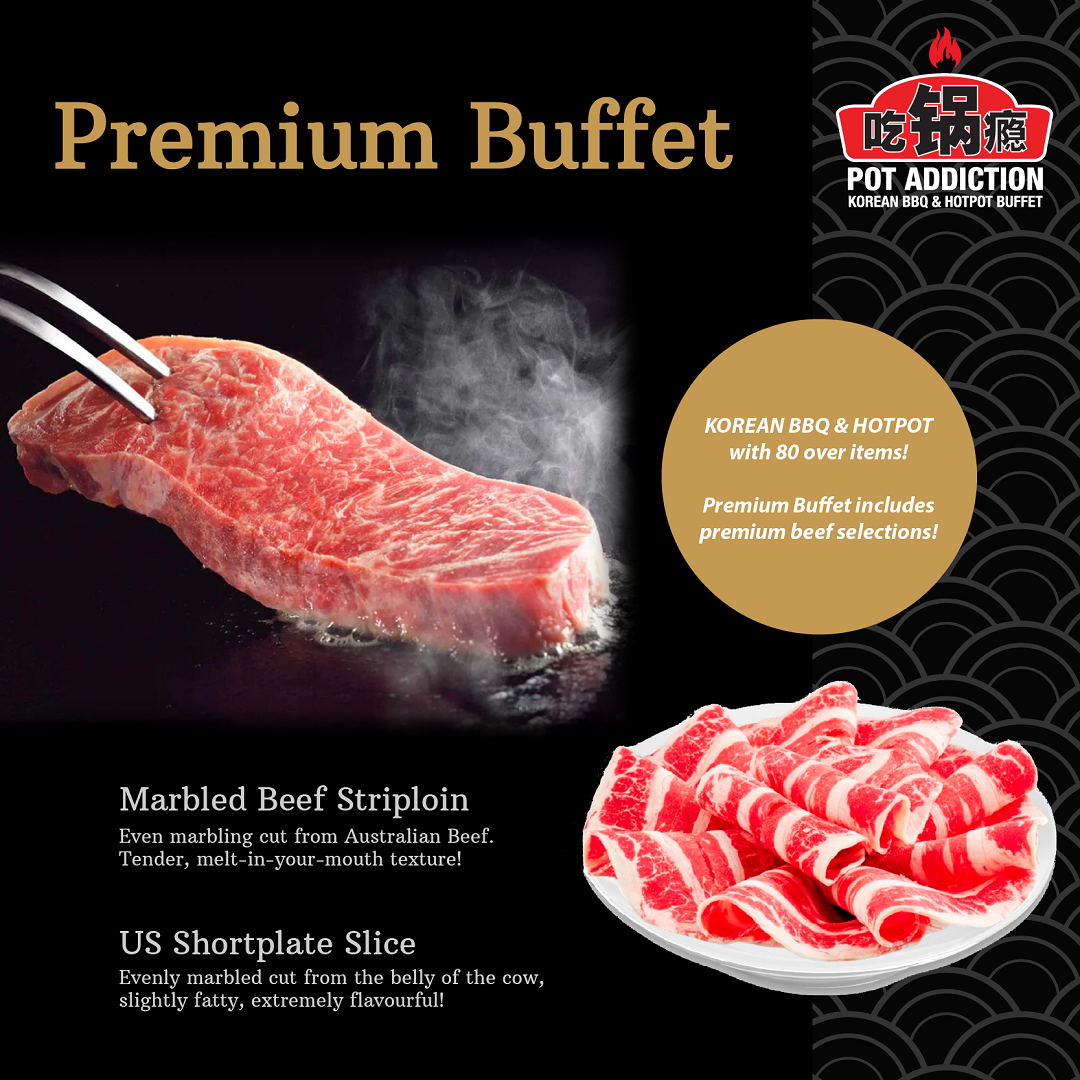 Premium Buffet Menu
Even with a huge selection to choose from, sometimes, we just want to mix things up a little.
Enjoy the most of the best we have to offer with our premium buffet menu on top of our KBBQ or hotpot buffet menu.
Available for both Korean BBQ and Hotpot.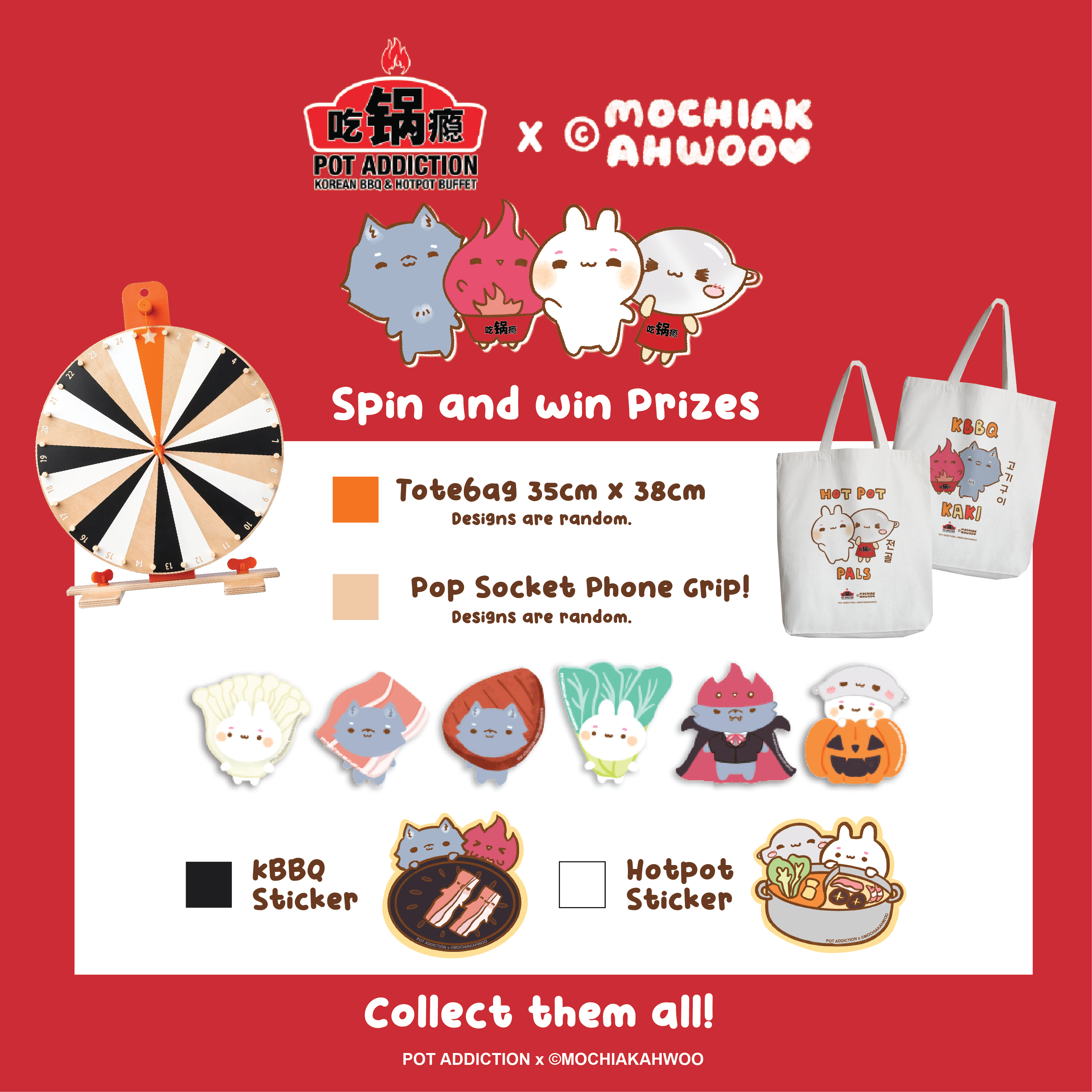 Pot Addiction X Mochiakahwoo
Spin and Win Prizes!
Win exclusive Pot Addiction X Mochiakwoo collaboration merchandises when you dine at any Pot Addiction outlet!
Collect them all now!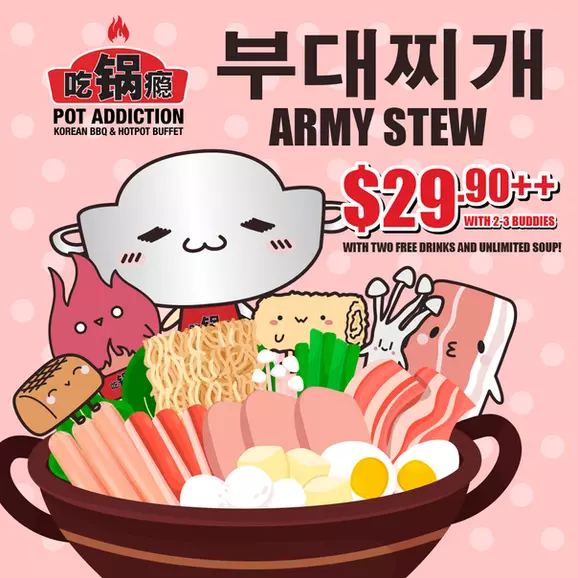 Army Stew Special
Free 2 drinks and soup for $29.90++! Good for 2-3 pax.
Lunch
Monday – Friday: 11:30am – 5pm
(Last Entry 3:30pm)
Dinner
Monday – Thursday: 5pm – 10pm,
Friday: 5pm – 10:30pm
(Thursday Last Entry: 8:15pm
Friday Last Entry: 8:45pm)
Saturday & PH Eve
11:30am – 10:30pm
(Last Entry: 8:45pm)
Sunday & PH
11:30am – 10:00pm
(Last Entry: 8:15pm)