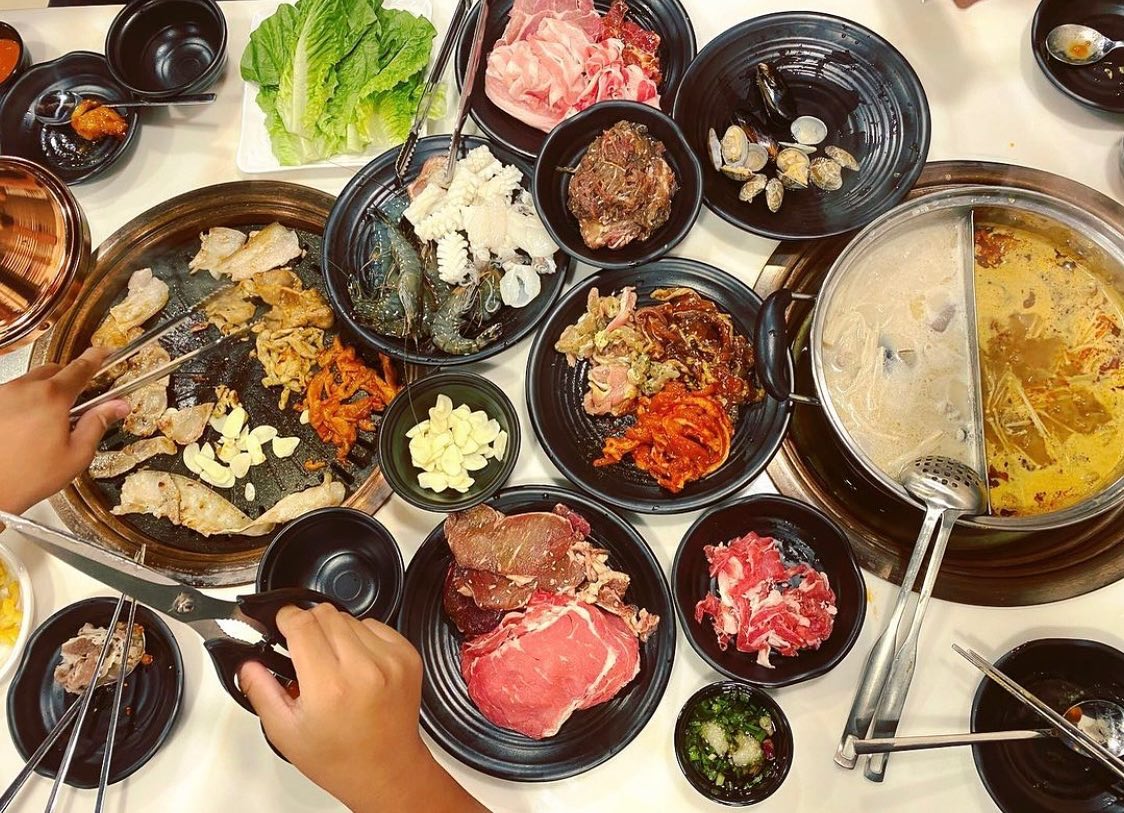 Craving some delicious Korean BBQ?
Pot Addiction is the perfect place for you! With over 80 items on our buffet, you're sure to find something to your taste. We have a variety of cooking styles and tempting add-ons, so you can customize your meal just the way you like it.
Come and enjoy a delicious spread of meat and vegetable. Take a dip, take a chance. Mix and match your favourite sauces to come up with your signature dish. You won't be disappointed – we promise!
Make a Booking with us today!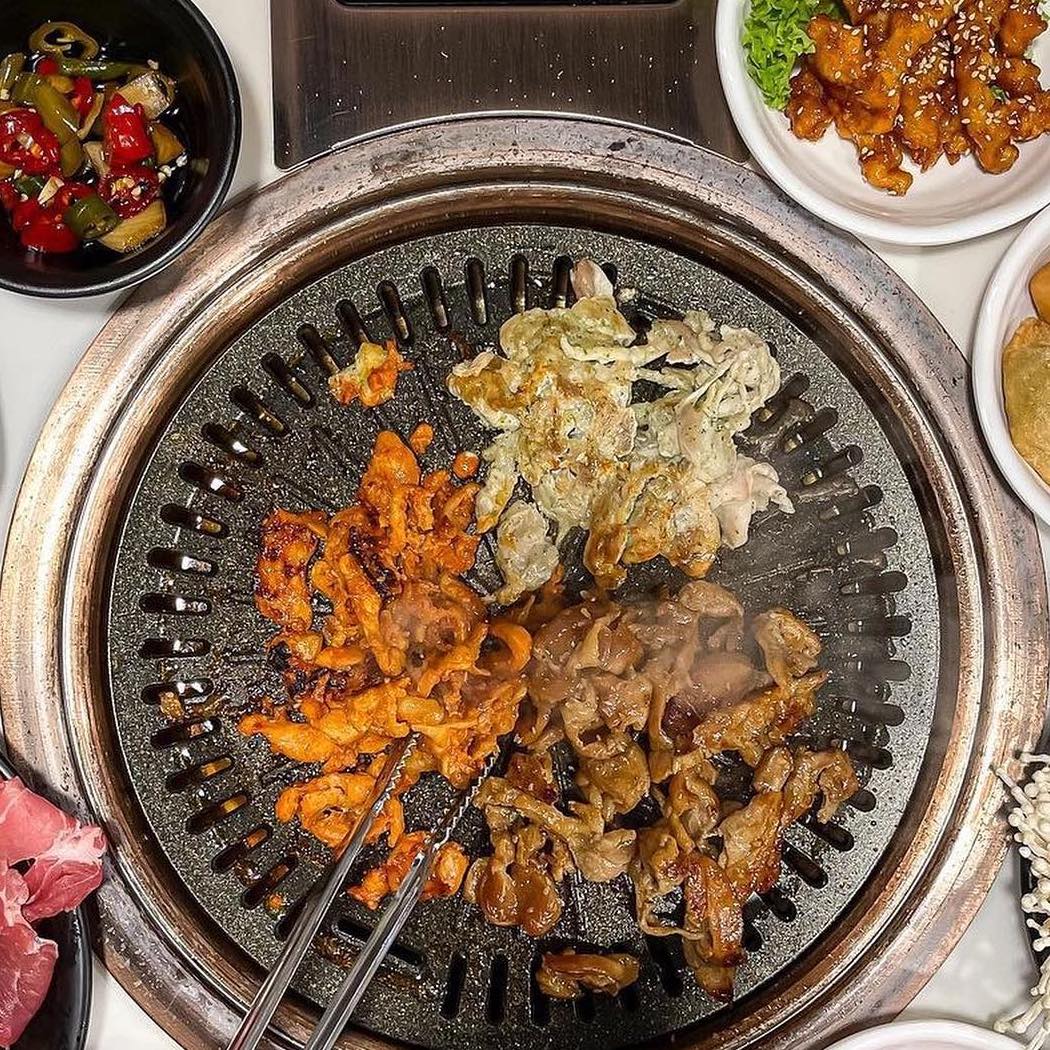 KBBQ
With 16 different types of meat such as Korean Ribeye, Chicken Bulgogi, Sliced Lamb, Beef Stomach to Pork Belly, we serve your daily KBBQ needs – meat, seafood, vegetable, and more!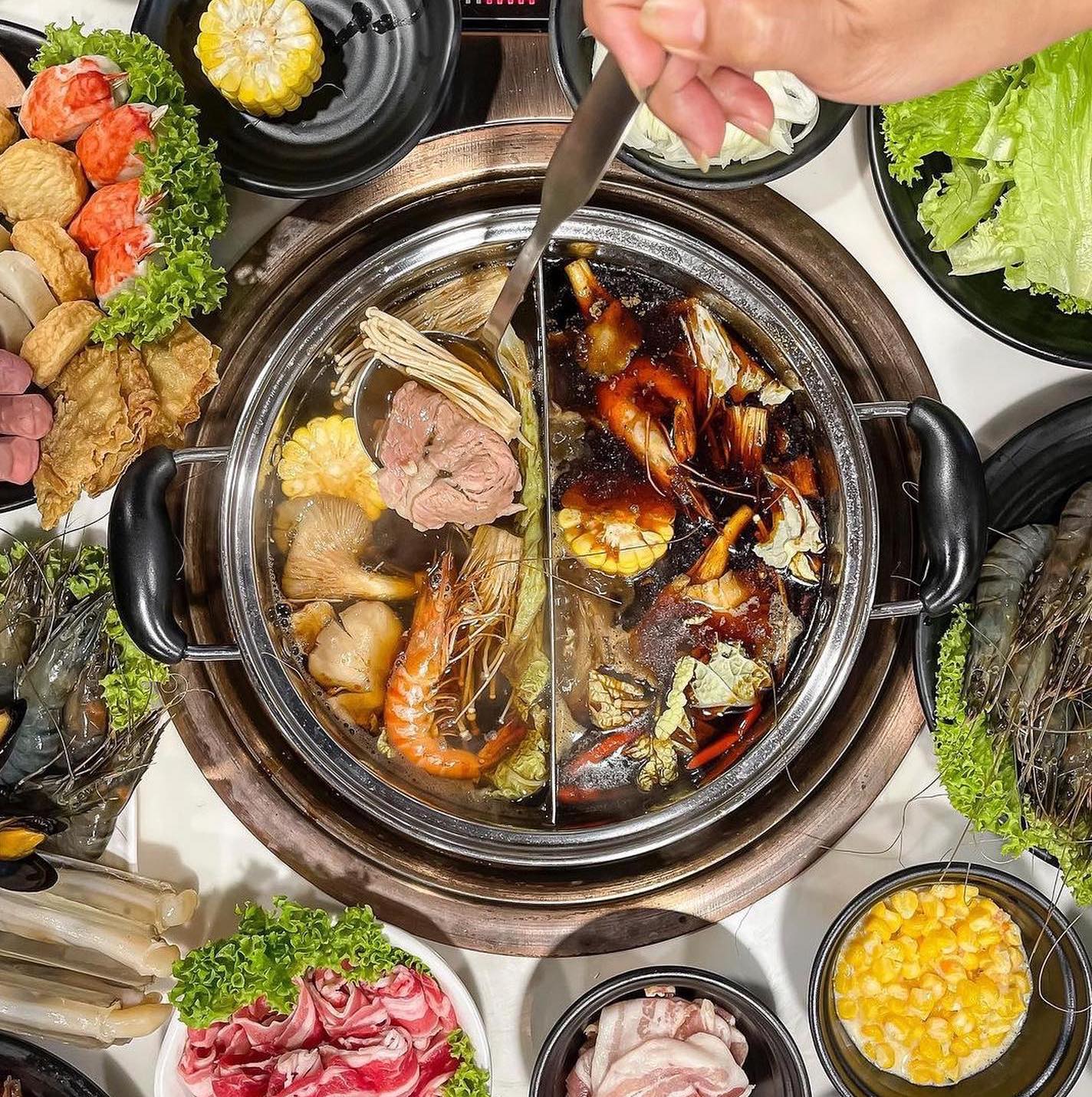 HotPot
All of our 7 soup bases is put together by our chefs with our own unique recipe, prepared with love and attention daily. Browse from a wide range of ingredients prepared to satisfy all your hotpot cravings.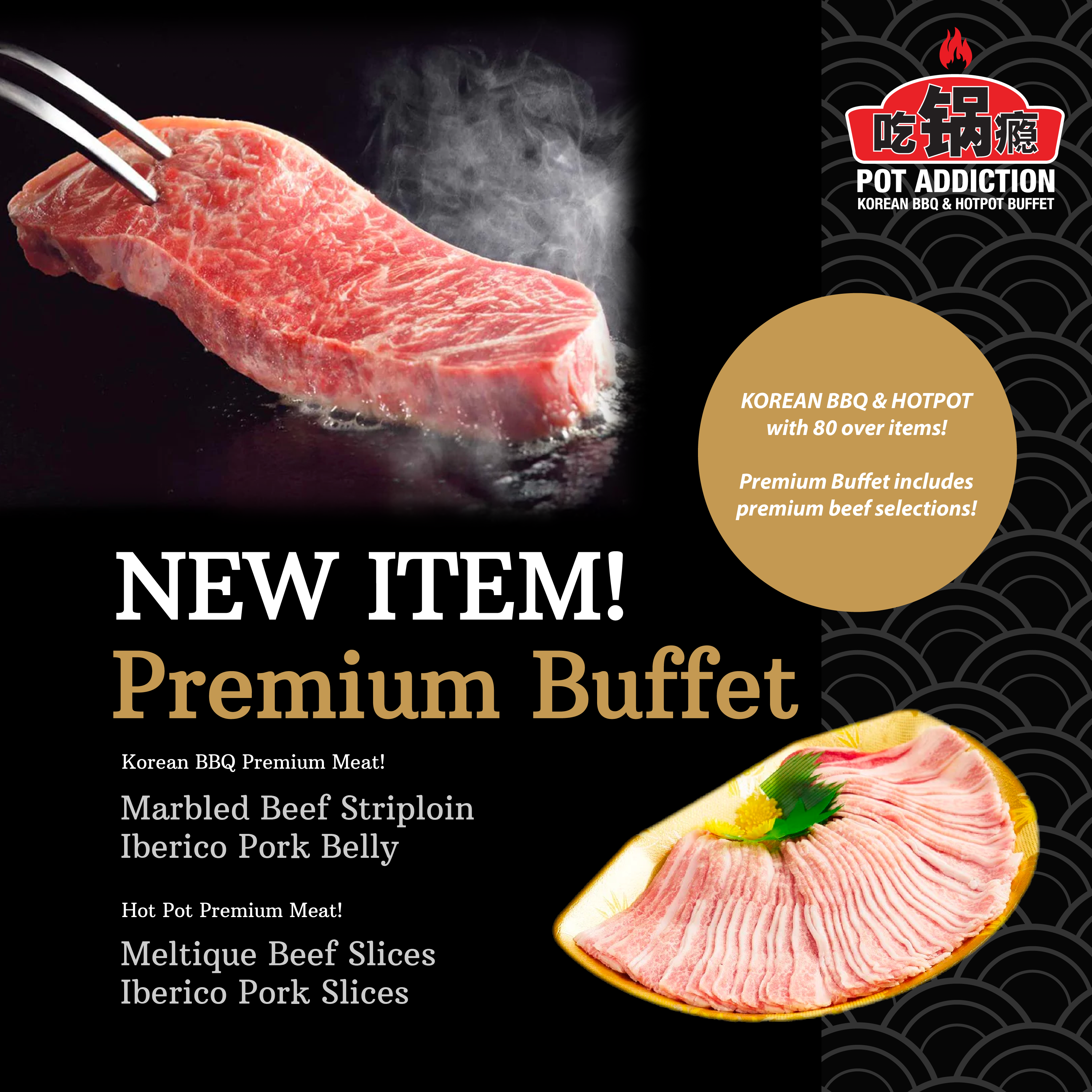 Premium Buffet Menu
Even with a huge selection to choose from, sometimes, we just want to mix things up a little.
Enjoy the most of the best we have to offer with our premium buffet menu on top of our KBBQ or hotpot buffet menu.
Available for both Korean BBQ and Hotpot.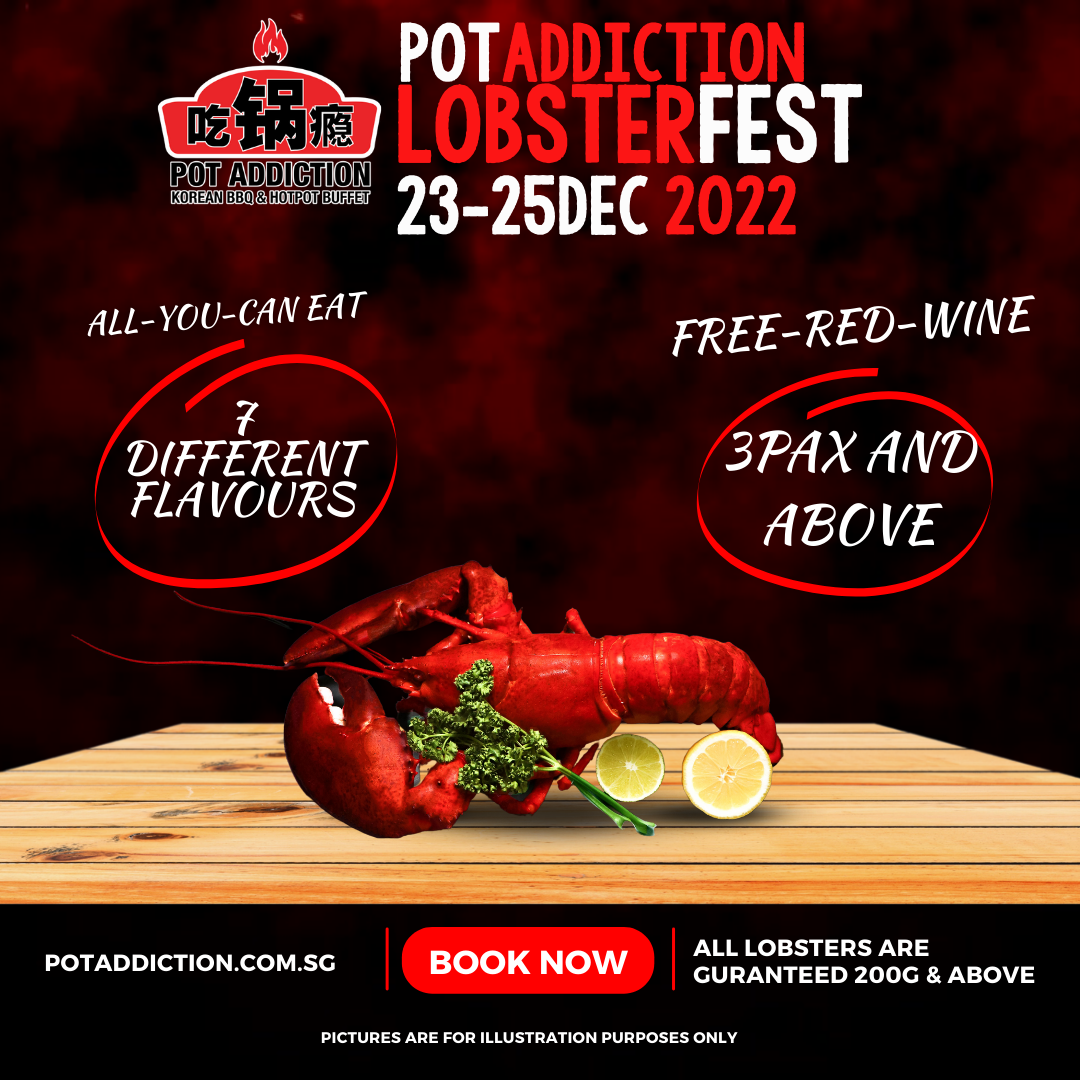 Celebrate this 23rd – 25 Dec, Christmas with UNLIMITED FREE-FLOW LOBSTERS & SEAFOOD
Access all our FINEST PREMIUM SELECTION like "Marbled Beef Striploin, Iberico Pork Belly, Meltique Beef Slices & Iberico Pork Slices, included  …AND MANY MORE!!!

Free Bottle of Red Wine for 3pax and above!
HIGHLIGHTS!!!
-Mentaiko Cheesy Grilled Lobsters
-Lobster Laksa
-Lobsters On Ice
-Mala Lobsters
-Stir-Fried Garlic Lobsters
-13-Spice Lobsters
-Lobster Congee
-Tiger Prawns on Ice
….Many more!!!
Mark your Calender! Booking is only available from 23rd December to 25th December 2022!
Lunch
Monday – Friday: 11:30am – 5pm
(Last Entry 3:30pm)
Dinner
Monday – Thursday: 5pm – 10pm,
Friday: 5pm – 10:30pm
(Thursday Last Entry: 8:15pm
Friday Last Entry: 8:45pm)
Saturday & PH Eve
11:30am – 10:30pm
(Last Entry: 8:45pm)
Sunday & PH
11:30am – 10:00pm
(Last Entry: 8:15pm)